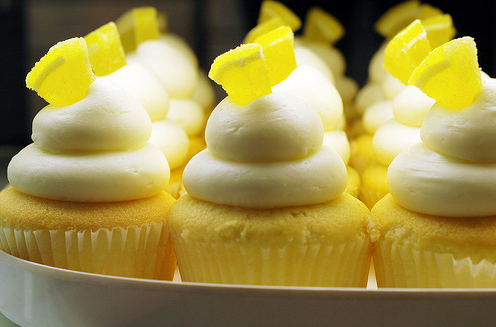 So today was a beautiful day here in Cincinnati...finally no rain and some warm weather! Something about this beautiful weather makes me crave lemon flavored desserts. Check out this ever so delicious recipe for Lemon Cupcakes courtesy of foodnetwork.com, you will not be disappointed!
Ingredients
3/4 cup (1 1/2 sticks unsalted) butter, softened
1 1/2 cups sugar
6 large eggs
1/4 cup fresh lemon juice
2 1/4 cups cake flour or all-purpose flour
1 1/2 teaspoons baking powder
1/2 teaspoon salt
1 tablespoon grated lemon zest
3/4 cup cream cheese, softened
Confectioners' sugar for dusting (optional)
Directions
Preheat the oven to 350 degrees. Spray the muffin tin with cooking spray.
Combine the butter and 1 1/4 cups of the sugar in the large bowl and beat with the mixeron medium-high speed until fluffy. ADd the eggs and 3 tablespoons of the lemon juice and beat until well combined, scraping down the bowl once or twice as necessary. Mix in the flour, baking powder, slat, and 2 teaspoons of the lemon zest until just combined.
In the small bowl, mash together the cream cheese, the remaining 1/4 cup sugar, the remaining 1 tablespoon lemon juice, and the remaining 1 teaspoon lemon zest until combined.
Spoon about 3 tablespoons of the batter into each muffin cup. Place about 1 tablespoon of the cream cheese mixture on top of each portion of batter and cover the cheese with some of the remaining batter (the batter should reach three-quarters of the way to the top of each cup). Bake until golden, about 20 minutes. Let the cupcakes cool in the pan for 10 minutes before turning over onto the wire rack to cool completely. Use the strainer to sift the tops with confectioners' sugar before serving if desired.